Welcome to
B Floral by
Brena
B Floral is a full service gift and local flower shop serving Coalville Utah, Kamas Utah, and Park City Utah areas. I specializes in making stunning professional floral arrangements for Valentine's Day, Mothers Day, and Memorial Day as well as weddings and funerals. No matter the occasion I can help make it special with flowers.
Weddings
Celebrate your wedding day with stunning wedding flowers from B Floral!
If you know exactly what you want your bouquet to look like or need some help deciding I can help! My wedding planning experience will help you relax and enjoy your big day. I create beautiful wedding bouquets for the bride,  striking boutonnieres for the groom as well as accent flowers for every other part of your wedding day.
Do you need to plan your wedding on a budget? I have several wedding décor items available for rent. Ask about renting items at your free consultation.
In Memory
Whether you are planning a funeral for a loved one or sending your condolences to the family with a beautiful bouquet of flowers, I can assist you. I design beautiful custom casket sprays that are placed on top of the casket as well as pallbearer boutonnieres.
Easel sprays, sympathy arrangements are floral arrangements presented on a freestanding easel in a gorgeous bouquet for those who want to express their sympathy with flowers.
Planter baskets are also available in a variety of styles and sizes.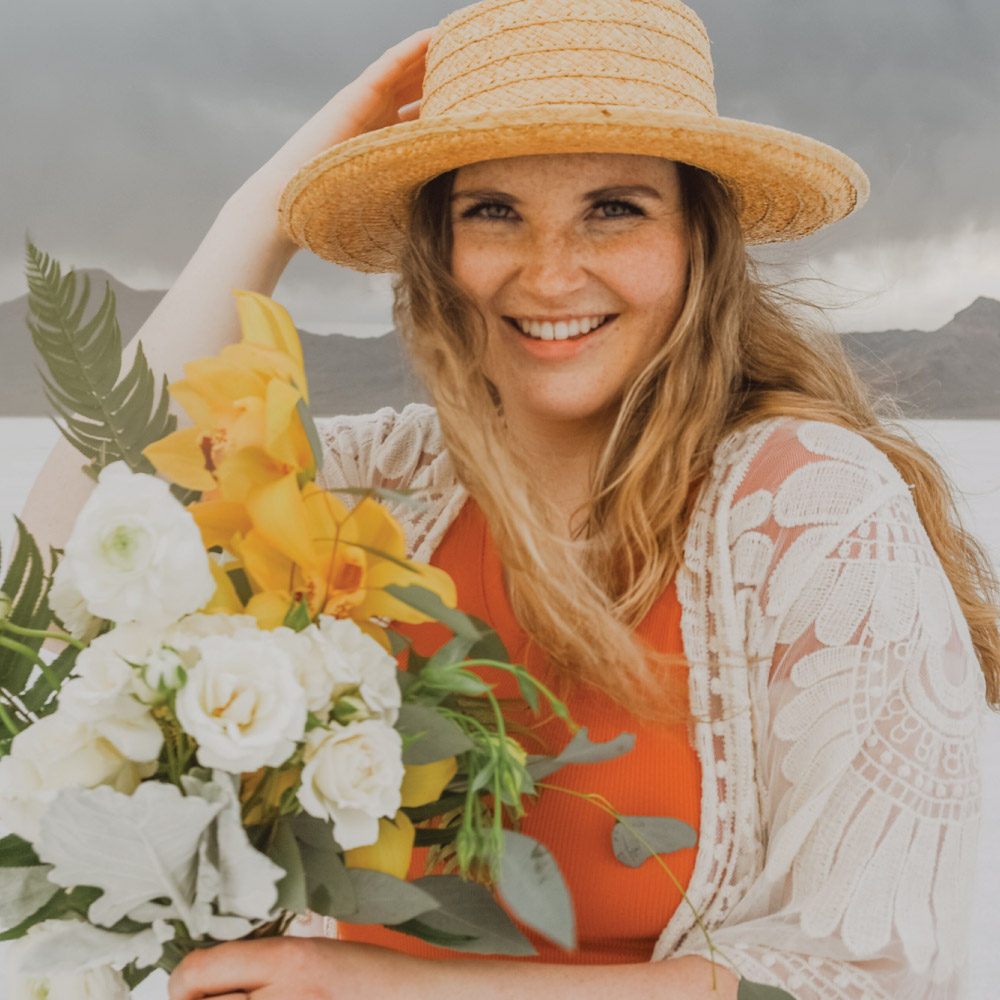 About Brena
Hi There! Thank you for visiting my website!
I have put a lot of time and dedication to my little business and I am so proud of what it has become! My flower shop is like my baby and I love her so much.
My name is Brena (Richins) Valle. I am a native Coalvillian that owns "that" little flower shop by the Summit Mercantile; called B Floral. I have owned this shop for 6 years now and like I just said, it's my baby. I am mostly a one woman show but I have to give lots of credit to my mom (Margarita Richins) and my husband, Goose, for helping me on a whim to get flowers in Salt Lake, or clean some buckets for me, or run a quick delivery. They are the best. 
Aside from their huge help, I have seasonal help and my new employee Shell Mccallum. I enjoy being a busy business owner. Along with owning this flower shop I also work for Summit County. Some days I feel like I'm running around like a chicken with its head cut off but, most days I have everything under control. 
Flowers are not the only thing I sell at my flower shop. I have recently opened it up to boutique products including, clothing, jewelry, and some home decor. Slowly but surely these items will make it to my website. I appreciate you for supporting me! It really means the world to me!
Contact Brena
Feel free to ask me any questions and I'll get back to you as soon as possible.
Shop Location
18 S Main St.
Coalville, UT 84017
(435) 336-GIFT (4438)
Follow Me!